Welcome Back
to Term 1
2023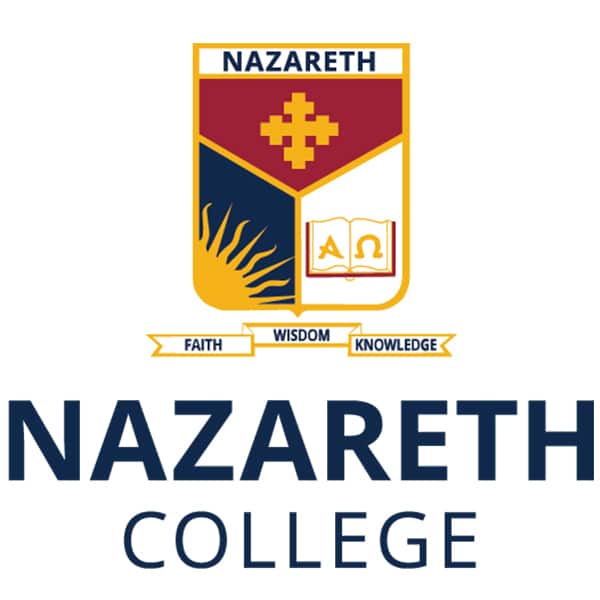 Join the Alumni Community
BUILDING IMPROVEMENT PLAN
WELCOME TO NAZARETH COLLEGE
Welcome to Nazareth College, a centre of learning, where everyone's contributions are valued, explored and enacted.

We are a Catholic Co-educational school that provides personalised learning for all students. We offer students the opportunity for an accelerated learning Laurel Program, Applied Learning qualifications and the newly introduced Soccer and Basketball Schools of Excellence. We are a school for all.

Nazareth is a Catholic Faith Community that allows individuals to discover themselves and learn how they can become valuable contributors in their communities.
Connect with a current parent or member of staff to ask any questions you may have.
Monday 16th January – Office Opens
Thursday 26th January – Australia Day Public Holiday
Wednesday 1st February – Friday 3rd February – Year 9 Camp
Wednesday 1st February – Year 7, 9, 11 & 12 Students Return – Term 1 Commences
Thursday 2nd February – Year 8 & 10 Students Return – Term 1 Commences
Monday 6th February – Student Photos
Wednesday 8th February – Year 7, VCE & Vocational Major LEAP Information Night
Tuesday 28th February – Open Evening
Friday 3rd March – Staff PD, Student Free Day
Thursday 9th March – Science Building Opening School Mass
Monday 13th March – Labour Day, Public Holiday
Thursday, 16th March – House Swimming Carnival Day
Monday 27th March – Wednesday 29th March – Year 7 Camp, Group 1
Wednesday 29th March – Friday 31st March – Year 7 Camp, Group 2
Thursday 6th April – Student Progress Meetings
Thursday 6th April – Last Day of Term 1
Monday 24th April – Staff PD, Student Free Day
Tuesday 25th April – ANZAC Day Public Holiday
Wednesday 26th April – Term 2 Commences
Friday 5th May – VCE Career Expo Excursion
Tuesday 16th May – House Cross Country Carnival
Saturday 20th May – Edutest Online Scholarship Testing
Thursday 1st June – Saturday 3rd June – Seussical the Musical Show Nights
Monday 12th June – Kings Birthday Public Holiday
Monday 19th June – Friday 23rd June – Year 10 Work Experience Week
Friday 23rd June – Last Day of Term 2
Monday 10th July – Term 3 Commences
Thursday 20th July – House Athletics Carnival
Tuesday 25th July – VCE & VCE Vocational Major Student Progress Meetings
Thursday 27th July – Subject Selection Evening and Career Expo
Thursday 3rd August – Year 10 Course Advice Day
Friday 18th August – Staff PD, Student Free Day
Thursday 24th August – Nazareth Day
Friday 25th August – Winter Sleepout
Wednesday 30th August – Taster Day 1
Thursday 31st August – Taster Day 2
Tuesday 12th September – Student Progress Meetings (Year 7 – 10)
Thursday 14th September – Nazareth Day Mass, Last Day of Term 3
Monday 2nd October – Term 4 Commences
Thursday 5th October – Nazareth Showcase
Wednesday 11th October – Presentation Evening
Thursday 12th October – Year 12 Farewell Assembly
Wednesday 1st November – Year 7 2024 Information Night
Monday 6th November – Student Free Day
Friday 24th November – Student Free Day
Wednesday 6th December – Last Day of Term 4
Monday 11th December – VCE & ATAR Results Released
Wednesday 20th December – College Closes For 2023
ENHANCING THE STUDENT EXPERIENCE WITH PERSONALISED LEARNING OPPORTUNITIES IN A CO-EDUCATIONAL SETTING