Every student at Nazareth College is a member of a specific House. Many of our activities and competitions are based on these Houses. Click each House name to see a brief background.
The Nazareth College crest was developed following extensive consultation and was commissioned by Mr Paul D'Astoli, the inaugural Principal of Nazareth College, and designed, as we know it today, by Mr Don LaFontaine in 1989.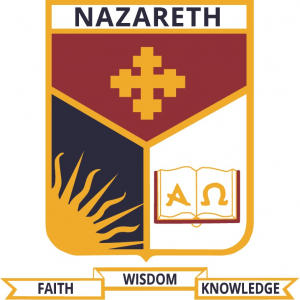 The crest symbolizes our unity as a pioneering group. It consists of three interrelated motifs.
The Cross symbolises our Faith. It is a Jerusalem cross chosen because the city of Jerusalem is very close to Nazareth and these two towns played an important role in Jesus' life.
The Book is a symbol of the Knowledge and Wisdom that the students of Nazareth will attain.
The Path symbolizes our journey through life along which we gather Knowledge and Wisdom, leading us toward a greater understanding of our Faith.
The College colours of red, blue, white and gold are significant in that they represent values and teachings it is hoped students from Nazareth College will attain in their years with us.
Blue symbolises truth, constancy and fidelity. Appropriately, blue is also Mary's colour.
Red is the colour of love, action and suffering. It is also the colour representative of the Holy Spirit.
White represents purity, joy, integrity and humility.
Gold symbolises the sun, or light, representing wisdom.
Holy Family of Nazareth, be our inspiration and our guide..
Jesus of Nazareth, help us to grow in faith, wisdom and knowledge.
Based on our motto of Faith, Wisdom, Knowledge.
by Deirdre Brown ibvm Dec 1994
1.
Founded in faith and hope

Founded in love and trust

Nazareth is our school

And we are proud to belong

Open to seek new ways

Open to find new paths

Nothing can stop us

As we strive to reach our goals

 

 
2.
Building from strength to strength

Caring for all in need

Nazareth is our school

And we are proud to belong

Ready to give our best

Ready to take the lead

Nothing can stop us

As we strive to reach our goals

Ref.
With faith to keep on believing

With knowledge to show the way

With wisdom to be discerning

The future we seek is ours today

So sing out your song Nazareth

Sing of God, sing of love

Sing out your song Nazareth

Together, together share the dream

 
 

 

3.

Refrain

 

Daring to be ourselves

Daring to stand for truth

Nazareth is our school

And we are proud to belong

Willing to share our gifts

Willing to work as one

Nothing can stop us

As we strive to reach our goals

 

Refrain
Established 10 February 1986 to provide Catholic education to students in local Catholic primary schools, Nazareth College now boasts highly successful local and International Education programs.
The College first opened its doors with only 6 portables, 11 staff members and 140 Year 7 students and our numbers have grown from there. Over the years the College has built many new facilities which aide in the innovative learning experience students have during their time at Nazareth College. By 1991, Nazareth College welcomed a full school cohort ranging from Years 7 to 12.
Priority Parishes & Primary Schools
Nazareth College has strong relationships with its parish schools and students from our primary feeder parishes, who together with students from over forty differing local primary schools, have many opportunities to engage in musical, social, academic and sporting events at Nazareth.
Priority Feeder Parishes
St Anthony's (Noble Park)
St Elizabeth's (Noble Park North)
St Gerard's (North Dandenong)
St John Vianney's (Mulgrave)
St Joseph's (Springvale)
St Justin's (Wheelers Hill)
St Mark's (Dingley)
St Simon's (Rowville)
Resurrection (Keysborough)